Main Page
Jump to navigation
Jump to search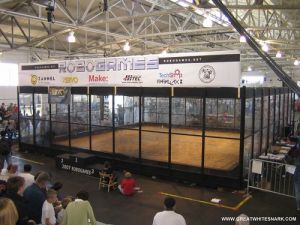 Robot Combat
Welcome to the Robot Combat Wiki
The goal of this Wiki is to have a single location that Robot Combat enthusiasts can come to find the information they are looking for. Like all Wikis, some content will be stored here while much of it will be links out to sources. Please be patient, it will take a while for the Wiki to build content. If there is something you'd like to know and you don't see a page for it, go ahead and create one. Editing some pages will be limited to known contributors but if you feel something should be changed or updated let us know or show that you can be a trusted contributor.

Stay Safe!
Some areas (like building flame throwers) are best left up to experts and pages dedicated to these areas will provide a general overview but we won't give step-by-step instructions on how to make things. We don't want people accidentally hurting themselves.
RobotCombatWiki Categories
Component Parts
Consult the User's Guide for information on using the wiki software.
Getting started with MediaWiki